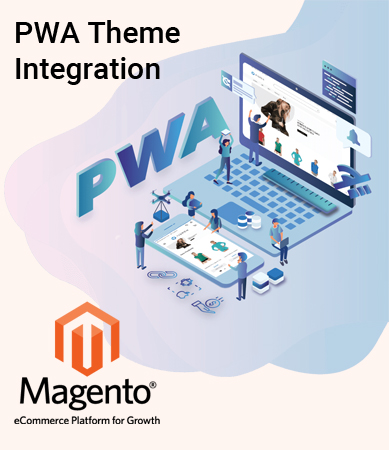 If you have a website supported by Magento 2 version that you can add a whole new dimension to it via advanced features that are high-tech and professional. We offer the best-in-class Magento 2 PWA Theme integration services in India that convert your undecorated Magento 2 website into a kind of mobile application, especially in terms of its each of use and high-end functionality. Our motto is to offer an experience similar to a business mobile application that most large brands today own, and we make it happen through our command in the Magento 2 PWA Theme development front. We add mobile-app-like features to your e-store, such as a home screen shortcut, product display, price comparison full-screen mode, etc. Customers enhance shopping experience while store owners can save some serious cash through our Magento 2 PWA Theme Integration service India.
But the main question now is, what actually is PWA? And What does it actually do? Also, you might be tempted to think whether it is really effective enough to make a difference to your Magento 2 eCommerce store. Well, PWA or Progressive Web Application is basically a regular site that can be molded in order to resemble a native website that already exists. The purpose of the Magento 2 PWA Theme is to give a solid, quick, and instant engagement for optimum user experience. PWA sites are quick, secure, responsive, and are cross-platform compatible. As a result of the PWA theme, your Magento 2 store is capable of working seamlessly and acts as a local application on versatile mobile devices. The Magento PWA Studio is used by a lot of web designers that take into consideration the scale of functionality that must be added to the store and the improvements that need to be made for bettering the site's performance.
Magento 2 PWA Theme Customization also focuses on making it easier for your attractive-looking site to be seen more on the curve, for which we at BestMagentoTeam also enrich your e-store with modern SEO strategies that shine a bright light over your eCommerce shop and increase its visibility by tenfolds. We further utilize modern-day extensions and libraries to build a solid framework and site design structure that clings to the Magento rule of extensibility under all circumstances.
Magento 2 PWA Theme can easily transit the changes over the Magento 2 site that may exist over the mobile devices as well. Sometimes, the new changes made to your web-store are not perfectly transmitted onto the mobile store which is then bad news for your mobile users. To retain their business, we offer the most advanced solutions to your site performance via advanced Magento 2 PWA Theme Customization where our expert and experienced Magento developers build themes that are meant for responsive sites. Clients improve shopping experience while online merchants can spare a great deal with financially savvy solutions that we ensure. Magento 2 PWA Theme is completely accessible via web search engines and shared through URLs also. We deliver the best customer experience via integrating the PWA studio theme into your latest Magento 2 store.